The Neshannock Township Volunteer Fire Company provides fire protection, emergency medical response, and various technical rescue services to Neshannock Township and surrounding communities in Lawrence County, Pennsylvania.  Our fire company is made up entirely of volunteers who protect the nearly 10,000 citizens and more than $600 million dollars worth of property in Neshannock Township.  In addition to our volunteer staff, the department receives administrative support from Neshannock Township to assist with reporting, maintenance, and fire prevention activities.
The fire company responds to around 400 incidents each year.  The emergencies handled by our responders include structure fires, automobile accidents, medical emergencies, and hazardous material incidents. In addition to these typical responses, the fire company also operates a swiftwater and ice rescue team and as well as a trench rescue team.  To maintain the highest skill levels, our responders are required to complete at least 70 hours of training each year with many members undertaking more than 100 hours of training annually.
Neshannock VFC operates a voluntary staffing program that utilizes volunteer firefighters staffing the station in targeted duty shifts.  During duty shifts, the station is staffed by at least one apparatus operator, one emergency medical care provider and at least one firefighter/rescue technician.  The duty shift is under the commanded of a duty officer who also responds to all incidents during the shift.
The fire company is financially supported through a combination of municipal tax funds and private donations.  Eligible tax fund expenses are submitted to the Neshannock Township Board of Supervisors for approval and payment with donation funds used to cover all expenses that are not eligible for purchase through tax funds.  All financial transactions are audited annually by an independent auditing firm.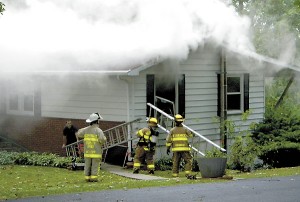 Neshannock VFC is led by a command structure consisting of a Fire Chief, a Deputy Chief, a Captain, a Shift Commander and a Training Officer. Each of these officers has a given span of administrative and tactical responsibilities in addition to commanding operations during emergencies. During duty shifts, the these five officers rotate as the Duty Officer for the entire response area during the shift.
The business operations of the Neshannock VFC are overseen by a board of directors as well as a President, a Vice-President, a President-Elect, a Secretary, and two Treasurers. The company operates by an adopted set of bylaws which define all department activities. All active members of the Neshannock VFC have voting rights within the organization and are integral in all policy decisions.